Note: For online courses, ignore event dates – they do not apply as online course are always available
Online Course – Behaviours which are Challenging to Staff & Clients
July 27, 2020
|
Recurring Event
(See all)
Online-Ignore Dates, always available!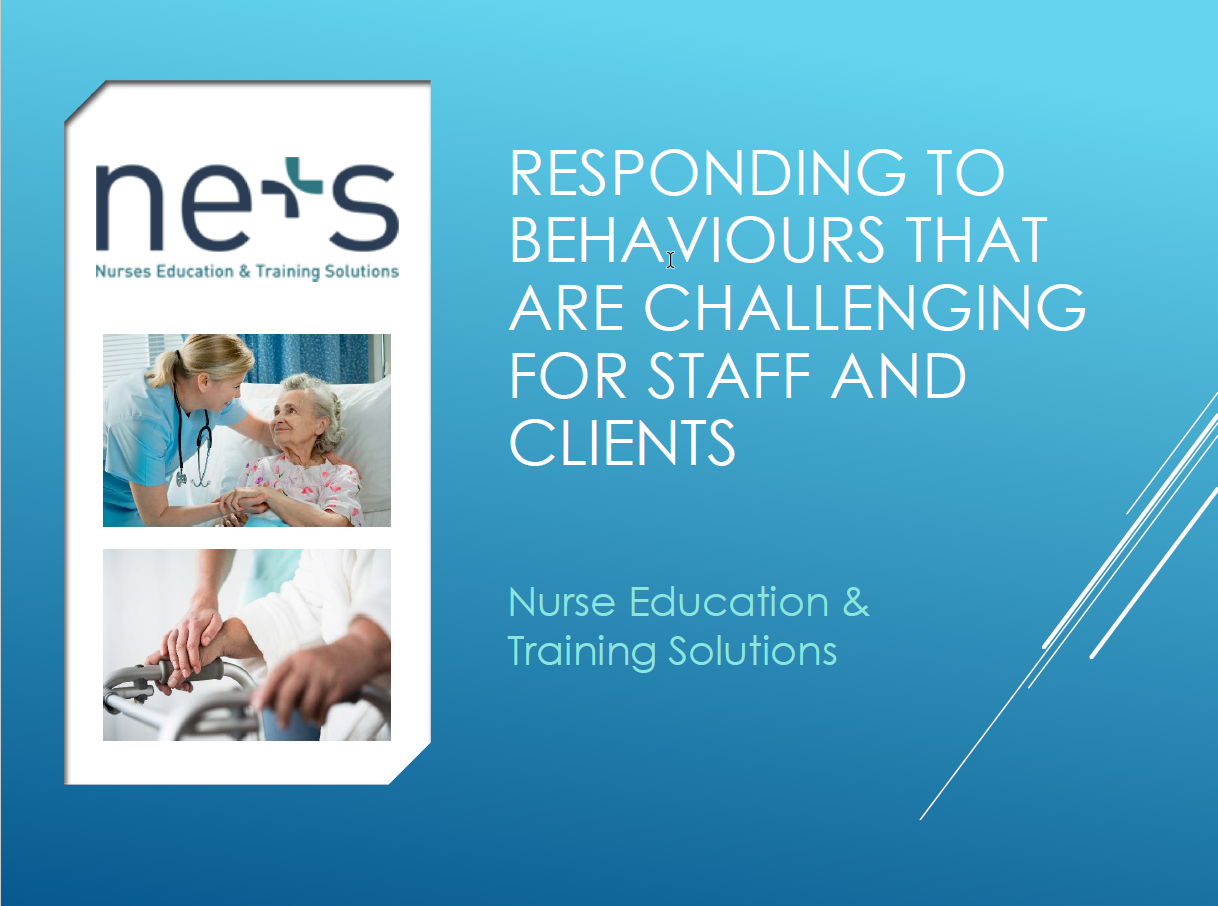 (Online Course) Responding to Behaviours that are Challenging to Staff and Clients

**NB Ignore Event Dates. Course can be downloaded at any time after purchase HERE
Course Overview
Aim: To inform and empower nurses, healthcare assistants and allied health professionals to respond effectively to clients showing signs of distressed behaviour.
Course Outline: This online/downloadable course provides an understanding of behaviours that challenge. It addresses the complex and various origins and causes as well as they most common types of challenging behaviour. It encourages person centred care where communication is key.  Behaviours like wandering, aggression and repetitive behaviours and various triggers are explored. It focuses on approaches like the ABC Technique and distraction therapies and environmental factors. It also looks at the influence of staff culture, attitudes and practice. It complies with HIQA Thematic Guidelines.
Objectives: To equip participants with the knowledge, skills and attitude to better respond to persons with behaviours that challenge using a person-centred approach. Effective Communication Strategies are threaded throughout this training. It provides staff with tools and resources to assist them in their work with clients in this kind of care setting.
Target Audience: This programme is aimed at nurses, healthcare assistants, and allied healthcare professionals who work with persons troubled by distressing behaviours and who wish to develop their skills and expertise in responding compassionately and effectively to them.
Contains:
Course Video, Course Slides/Notes, Assessment.
Training Certificate Available on successful completion
More info:
Cost: €29 (per licence)
Download Course after Payment
For any further enquiries about this course, including running it onsite at your own venue, please don't hesitate to contact us!